EXPANSIVE LIVING, ENHANCED EXPERIENCE
Three-Bedroom Apartments at FUSE
---
Step into the expansive and elegant world of our three-bedroom apartments at FUSE, designed for those who crave space and style in their student living. The C1 floor plan, covering a generous 1,053 sq ft, is tailored for groups who appreciate the blend of communal and private living. Each apartment features three bedrooms, each with its own bathroom, providing a perfect mix of individual privacy and shared living areas. These spaces are not just about accommodation; they're about crafting a communal living experience with an eye for luxury and functionality.
A HAVEN FOR GROUPS
Discover Our Three-Bedroom Options
---
Our C1 three-bedroom floor plan offers 1,053 sq ft of space, ideal for students looking for a balance of shared and private living. These apartments are perfect for group study sessions, shared meals, and relaxing together, while also providing personal spaces for when you need a moment of solitude.
AVAILABLE
3 Bed | 3 bath | 1,053 sq ft
AVAILABLE
3 Bed | 3 bath | 1,053 sq ft
Amenities
Private bedrooms and bathrooms
Fully furnished
Fully equipped kitchen with stainless steel appliances
Hardwood-style flooring and designer bathrooms
In-unit washer/dryer
Mounted flat-panel TV with free Wi-Fi and cable, including HBO
On-site maintenance
By-the-bed leasing
THREE-BEDROOM APARTMENT FEATURES
Elegant Group Apartments
---
Each three-bedroom apartment at FUSE is an example of sophisticated living tailored for student groups. Fully furnished with a fully equipped kitchen, stylish cabinetry, and quartz countertops, these apartments are ready for both socializing and individual pursuits. Private bedrooms with designer bathrooms ensure personal space and comfort, while shared areas are perfect for communal activities. In-unit washers/dryers and high-speed Wi-Fi are standard, ensuring a seamless living experience.
APARTMENT FEATURES
Refined Living, Redefined at FUSE
---
FUSE Apartments bring to life an unparalleled standard of student living in West Lafayette. It's more than just an address; it's a canvas for your university years. Every apartment is a masterful blend of luxury and practicality, intentionally designed to enrich your everyday experience.
At FUSE, we understand that your environment should not only match but also inspire your academic and personal aspirations. Every aspect of our apartments reflects this philosophy, combining elegant, contemporary elements that seamlessly integrate, creating a space that is uniquely yours. Step into the FUSE lifestyle and see why it's the perfect setting for your Purdue journey.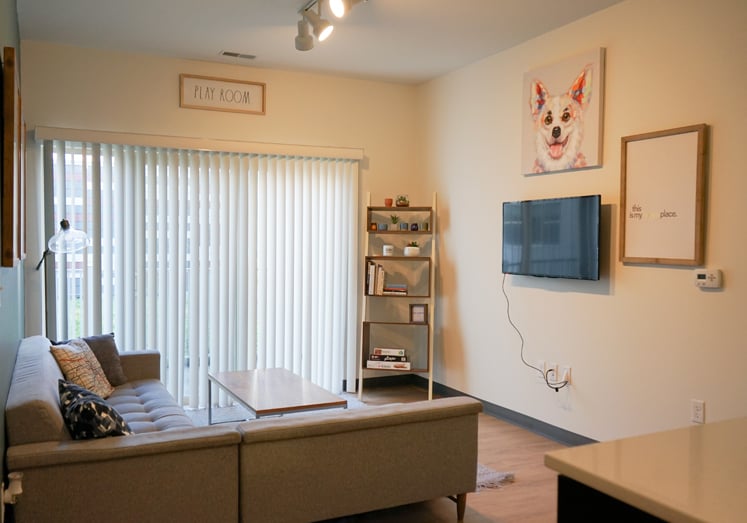 Apartment Features
Fully Furnished Elegance
---
Walk into a living space where every piece of furniture has been chosen with both style and function in mind. Our fully furnished apartments are move-in ready, offering you the luxury of settling in without the hassle of furniture shopping. Each layout is thoughtfully designed to maximize both comfort and aesthetics.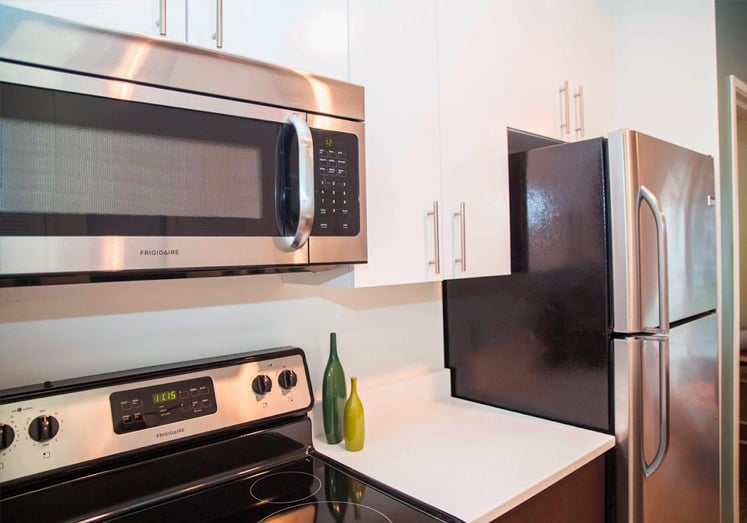 Apartment Features
Gourmet Kitchens, Modern Convenience
---
Each FUSE apartment boasts a kitchen that marries functionality with sophistication. Fully equipped with everything you need, from utensils to appliances, these kitchens are a culinary enthusiast's dream. Stainless steel appliances and quartz countertops add a touch of modern elegance, making every meal preparation an experience in itself.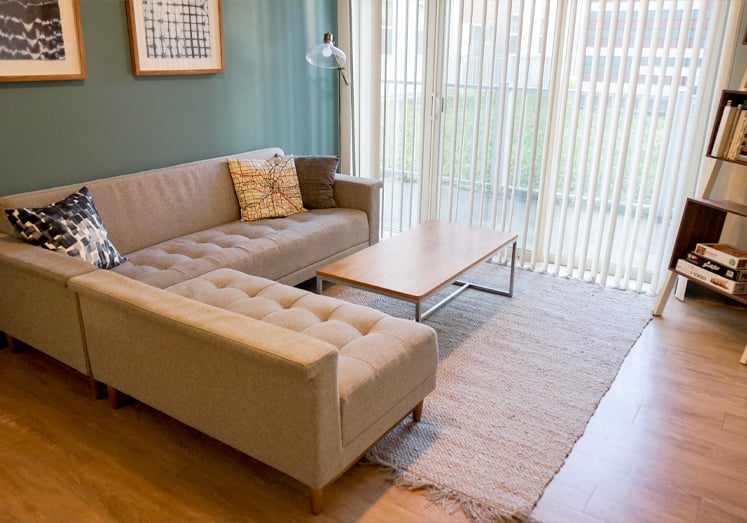 Apartment Features
European Flair in Cabinetry and Flooring
---
Discover the sleekness of Euro-style cabinetry complemented by the warmth of hardwood-style flooring. This combination not only elevates the visual appeal of your apartment but also offers a durable and practical solution for everyday living. The cabinetry provides ample storage while the flooring brings an element of cozy sophistication to your space.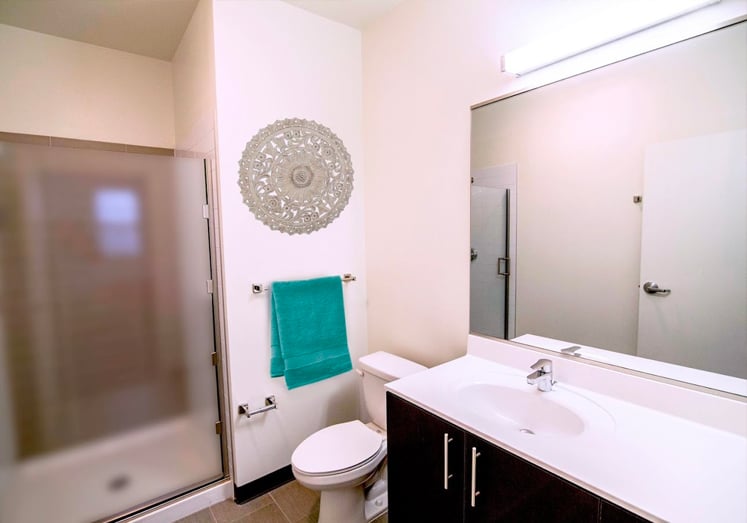 Apartment Features
Designer Elegance in Every Detail
---
Step into a bathroom that feels like a personal spa. Designer bathrooms equipped with tile showers and modern fixtures provide a serene space to refresh and rejuvenate. Every detail, from the tiling to the fittings, is selected to create an atmosphere of understated luxury.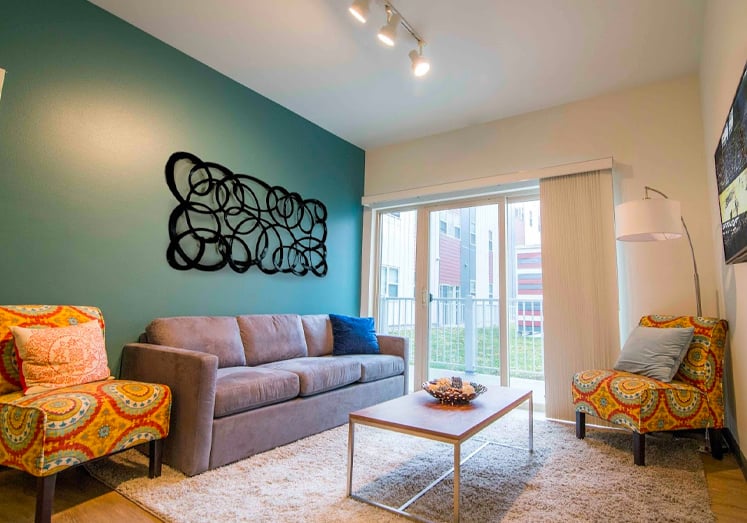 Apartment Features
Entertainment and Connectivity at Your Fingertips
---
Living at FUSE means being connected and entertained. Enjoy your favorite shows on the mounted flat-panel TV, and stay connected with high-speed Wi-Fi and cable, including HBO. Whether it's for study, work, or relaxation, our tech amenities ensure you're always just a click away from what matters.
Looking for Something Different?
Explore Our Studios, 1, 2 & 4 Bedroom Layouts
---
Discover all that FUSE has to offer with our variety of apartment layouts. From sleek studios to spacious 1, 2, and 4 bedroom options, each space is crafted to enhance your living and learning experience in West Lafayette.
At the Heart of West Lafayette
Explore Your New Neighborhood
---
Discover the vibrant surroundings of FUSE Apartments, nestled in the bustling heart of West Lafayette. With Purdue University just steps away, embrace a neighborhood rich in academic spirit and urban energy. Our location on the map isn't just about proximity; it's about being part of a lively community that thrives on innovation, culture, and connectivity. From the eclectic dining options and cozy coffee shops to the serene parks and dynamic cultural venues, everything you need and more is within easy reach. Experience the convenience of city living coupled with the charm of a close-knit community. Explore the neighborhood through our map and see for yourself why FUSE Apartments is not just a place to live, but a place to thrive.
Parks
Restaurants
Retail
Medical District
Collegiate